Center for Magnetic Resonance Research, Department of Radiology
2017 Minnesota Workshop
You are here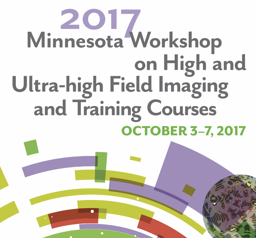 For details please see the conference brochure
Overview
THE GOAL OF THIS WORKSHOP is to provide a forum to disseminate and discuss the technical issues and applications of MRI/MRS conducted with high magnetic fields (≥ 3 T). Presentations from experts in the major areas of high field MR research will cover fundamental principles, methodology, and biomedical applications in the brain as well as the other organ systems in the body. After attending this workshop, individuals can expect to be well informed of the advantages and limitations of high field MR and will have acquired much of the basic knowledge necessary to undertake high field MR investigations. Designed as both an educational program and a scientific forum for the presentation of the state-of-the-art research, the workshop is intended for a wide spectrum of basic and clinical scientists including cognitive scientists, physicists, radiologists, neurologists, neuropsychologists, psychiatrists and others interested in the technical development and biomedical applications of high field MRI.
Program (Oct 5-7)
Thursday, October 5
Session 1: Cells to Networks
Session 2: MR Above 7 T
Session 3: Novel Contrasts
Friday, October 6
Session 4: Neuroimaging
Session 5: Connectomics
Session 6: New Directions in Instrumentation
Saturday, October 7
Session 7: Body Imaging at Ultra High Field
Session 8: RF Management
Training Courses (Oct 3-4)
Imaging Methods for the Connectome Projects
High-Field Parallel Transmission and Engineering (7 T and 10.5 T)
MR Spectroscopy
Call for Abstracts
Prospective participants are invited to submit abstracts for oral and poster presentations. The deadline for submission is August 1, 2017. Abstracts are limited to one page in length, including all images, tables, graphs and references. Font size should be no smaller than 8 pt. Please use following format: formatted in one column, including images and tables as needed with the following sections: title, authors, affiliations, purpose, methods, results, discussion, conclusion, references.
The highest scoring abstracts will be given a 10-minute oral presentation. Other accepted abstracts will be presented as a brief, one-slide oral presentation ('summary pitch') and a traditional poster. Please submit abstracts by email to cmrrworkshop@umn.edu by August 1, 2017 for full consideration.
Registration
Fees
Workshop: $380 (includes materials and lunches)
Training Course: $950 (includes materials and lunches)
Workshop and Training Course: $1075
Dinner at the TCF Stadium: $55
Online Registration
Online registration available here.
Location
The workshop, training courses, and reception on Thursday, October 6 will be held at
Center for Magnetic Resonance Research (CMRR)
University of Minnesota
2021 6th Street SE
Minneapolis MN 55455
CMRR is located on the East Bank of the University of Minnesota campus.Conference dinner on Thursday, October 5 will be held at the TCF Bank Stadium Club.
Hotel Accommodations
A block of rooms has been reserved at The Commons Hotel on the University of Minnesota campus, a short walk from the CMRR:
The Commons Hotel
615 Washington Ave SE
Minneapolis, MN 55414
1.800.822.6757
Booking should be made through the Workshop website (www.cmrr.umn.edu/workshop2017).There is a special hotel rate of $153 single/double, $173 triple, $193 quad plus tax and fees per night (please ask for "11th Biennial Minnesota Workshop and Training") before September 5, 2017.
Contact
If you have any questions regarding this workshop, please email cmrrworkshop@umn.edu.