1997 MINNESOTA WORKSHOPS
---
PRINCIPLES AND APPLICATIONS OF HIGH FIELD MAGNETIC
RESONANCE IMAGING AND SPECTROSCOPY TECHNIQUES
MARCH 7 - 8, 1997
MAGNETIC RESONANCE IMAGING of BRAIN FUNCTION
MARCH 8 - 9, 1997
HANDS ON fMRI TRAINING COURSE
MARCH 10, 1997

Location:
Radisson Metrodome Hotel
at the University of Minnesota
615 Washington Avenue S.E.
Minneapolis, MN 55414

Sponsored by: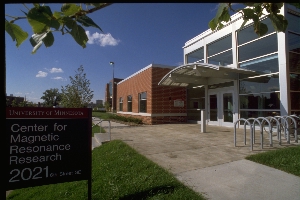 Center for Magnetic Resonance Research
Department of Radiology
University of Minnesota Medical School
Minneapolis, MN


If you have any questions regarding these workshops,
please email deb@cmrr.umn.edu.
---
URL: http://www.cmrr.umn.edu
Last modified:
Please direct questions or comments about this web page to:
webmaster@cmrr.umn.edu
---
The University of Minnesota is an equal opportunity educator and employer.