Center for Magnetic Resonance Research, Department of Radiology
CMRR In the News
You are here
Taming Tremors
| | |
| --- | --- |
| | July, 9 2015 A U medical team delivers precision stimulation to the brain, relieving the debilitating symptoms of disorders like Parkinson's disease. |
A measure of success
| | |
| --- | --- |
| | January 28, 2015 Dr. Garwood's group is finding techniques to measure the oxygenation of an artificial pancreas, which has the potential to help diabetic patients. |
10.5T reached!
| | |
| --- | --- |
| | Dec 17, 2014 CMRR's new 10.5T magnet is in the final stages of being ramped and has reached a field strength of 10.5T+. |
Kamil Ugurbil, PhD Receives Medical School Publication Award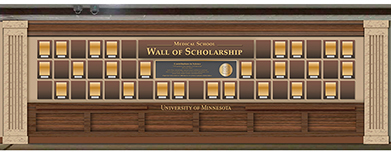 On October 23, 2014, Kamil Ugurbil, Ph.D., Director of the Center for Magnetic Resonance Research, became one of 23 inaugural honorees on the Medical School Wall of Scholarship. The Wall of Scholarship highlights the work of current faculty members with a primary appointment in the UMN Medical School who have first or last author credits on a publication that has been cited at least 1000 times by two of three citation indices.
U of M Professors Developing Miniature MRI Machine
| | |
| --- | --- |
| Professors Garwood and Vaughan | Oct 15, 2014 "Maybe every breast center could have it or maybe it would be low enough cost it could be in every shopping center and you could get screened," Garwood said. |
U research taking brain research deeper and further



Oct 13, 2014 Traditional magnetic resonance imagining, or MRI, machines have their patients drawn into a large, noisy tube.

But now, the MRI process could become as simple as strapping on a helmet, thanks to a new technology partly developed by University of Minnesota scientists.
CMRR awarded first wave of BRAIN (Brain Research through Advancing Innovative Technologies) initiative funding
October 06, 2014 Professors Mike Garwood, Tommy Vaughan and Wei Chen were awarded $2.5M on September 30, 2014 to develop new MRI technology. These advances show great promise to broaden and deepen the application of MRI technology.
CMRR Researchers support University diabetes research
| | |
| --- | --- |
| Sept 19, 2014 Gülin Öz, Ph.D., Silvia Mangia, Ph.D., and Kamil Ugurbil, Ph.D. are part of a multidisciplinary team to study the impact of diabetes on dementia. Spectroscopy and advanced imaging capabilities allow researchers to manipulate blood glucose levels within the magnet to study how brain metabolism changes in people exposed to recurrent hypoglycemia. | |
CMRR Technology Advances Treatment of Movement Disorders
| | |
| --- | --- |
| | Sept 9, 2014 Noam Harel, PhD. is part of a multidisciplinary team harnessing the power of CMRR 7T technology to improve the surgical treatment of patients with movement disorders. |
University of Minnesota tackles Friedreich's ataxia, a progressive neurological condition
July 16, 2014 The University of Minnesota is pushing research efforts forward against the progressive neurological condition, Friedreich's ataxia (FA) after receiving $150,000 in new funding from the Friedreich's Ataxia Research Alliance (FARA), GoFAR, and Ataxia U.K.
In the US, at the University of Minnesota, Drs Christophe Lenglet and Pierre-Gilles Henry are using a different approach to developing sensitive measures of brain and spinal cord degeneration.
SWIFT MRI helps find cancer needle in a haystack
| | |
| --- | --- |
| September 4, 2014 According to Curtis Corum, Ph.D., assistant professor of radiology in CMRR, finding small tumors can be like finding needles in a haystack. | |
Prof. Ugurbil Receives the Richard R. Ernst Medal
May 20th, 2014 — Prof. Kamil Ugurbil received the prestigous Richard R. Ernst Medal today during the Richard R. Ernst Lecture at the Swiss Federal Institute of Technology in Zurich, Switzerland. This medal is awarded annually to a person who has significantly contributed to strengthening the relationship and understanding between the sciences, society, and politics.

Watch the full ceremony and speech here.
CMRR's Christophe Lenglet gives TedxUMN Talk
On April 27, 2014, Christophe Lenglet gave a thought-provoking talk at TEDxUMN on brain mapping and the application to ataxia research.
Dr. Ugurbil to receive the Richard R. Ernst Medal
| | |
| --- | --- |
| April 21st, 2014 — On May 20, 2014, Dr. Ugurbil will receive the Richard R. Ernst Medal during the Richard R. Ernst Lecture at the Swiss Federal Institute of Technology in Zurich, Switzerland. This Medal is awarded annually to a person who has significantly contributed to strengthening the relationship and understanding between the sciences, society and politics. Former Medal recipients include Kofi Annan, Sir Roger Penrose, Dr. Ahmed Zewail and Dr. Ernst Ludwig Winnacker. | |
Time-lapse video of 10.5T delivery
Dec 31, 2013 Academic Health Center's time-lapse video of the 10.5T delivery, with comments by CMRR Director Dr. Kamil Ugurbil.
New 10.5T Magnet Delivered
| | |
| --- | --- |
| December 7-8, 2013 The new 10.5T magnet was delivered to the CMRR this weekend. It was shipped to Duluth via the Great Lakes, then loaded onto a two-truck trailer. The magnet arrived Friday evening, and was unloaded and moved inside the CMRR on Saturday. The 110-ton instrument contains 720 miles of winding and weighs as much as a railroad locomotive and more than twice as much as a Boeing 737 airliner. | |
Minnesota Daily Article on 10.5T Magnet
November 12, 2013
Read the Minnesota Daily student-produced newspaper article on the event from the November 12, 2013 edition.



Human Connectome Project - Mapping the Human Brain
| | | |
| --- | --- | --- |
| | | The Human Connectome Project, or HCP, has brought the combined brainpower of 36 investigators — including six from the University of Minnesota —from 11 different institutions to bear on the challenges of understanding the human brain. Now just past the midpoint, the five-year, $30 million research effort is mapping the vast network of neurons and the trillions of interconnections that compose this elaborate organ. |
CMRR a part of UMN new Biomedical Discovery District
Fall, 2013 Using the center's high-field spectroscopy technologies and expertise, Gülin Öz, Ph.D., and colleagues James Cloyd, Pharm.D., and Paul Tuite, M.D., found that a natural product that's available over the counter increases antioxidant levels in the brains of people who have Parkinson's disease — which could eventually slow the course of the disease. Öz says the medication needs further study, "but it could be part of the solution and keep patients healthy a little longer."
10.5T Magnet ships to CMRR
October 30, 2013
After five years of planning, fabrication, and construction a new 10.5T magnet with a human-size bore is shipping to CMRR this week.



| | |
| --- | --- |
| | The 10.5 magnet is expected to arrive at CMRR on Monday, December 2, 2013. |
CMRR High-Field Workshop 2013
| | |
| --- | --- |
| The CMRR held their 9th biennial workshop on October 11-13, 2013. Focused on emerging scientific advances in magnetic resonance imaging, the workshop attracted over 120 participants from across the globe. A two-day hands-on training experience preceded the workshop and was focused on providing detailing training on spectroscopy, functional MRI and connectivity. Included in this training were advanced techniques such as Multiband, DWI, BOLD, Diffusion and GLM. | |
Transforming Islet Transplantation
Oct 2, 2013 Thanks to funding from the Schott Family Foundation, Klearchos Papas, Ph.D. and Michael Garwood, Ph.D. are working to miniaturize a new oxygen preservation technology for use in islet implantation for an artificial pancreas.
CMRR hosts Obama NIH BRAIN Working Group
On August 29-30, 2013, the CMRR hosted the NIH BRAIN Working Group, the highlight of which was four hours of presentations from top scientists from across the globe. CMRR Director, Kamil Ugurbil, is a member of the Working Group.
New Dental MRI Study Yields Best Images Yet
| | |
| --- | --- |
| Aug 23, 2013 CMRR researchers Michael Garwood, Djaudat Idiyatullin, and Curt Corum, in conjunction with Don Nixdorf, School of Dentistry, have made exciting advances in developing dental MRI with the hope of someday replacing current x-ray imaging techniques. Their latest research was published in Magnetic Resonance in Medicine (July 30, 2013). | |
Research Snapshot: U of M study finds NAC boosts brain and blood glutathione in patients with Parkinson's and Gaucher's diseases
Aug 5, 2013 University researchers Paul Tuite, M.D. and James Cloyd, Pharm.D., working with CMRR's Gulin Oz, Ph.D. and Melissa Terpstra, Ph.D., have shown that changes in the level of glutathione (GSH) in the brain in response to the antioxidant N-acetylcysteine (NAC) infusion can be measured with MR spectroscopy.
Prominent Friedreich's ataxia spokesperson and advocate participated in University of Minnesota study
| | |
| --- | --- |
| | On July 23, 2013, the University of Minnesota's Center for Magnetic Resonance Research (CMRR) hosted prominent Friedreich's ataxia spokesperson and patient, Kyle Bryant. Watch highlights. The study is being conducted by co-principal investigators Isabelle Iltis, Ph.D. and Christophe Lenglet, Ph.D. |
CMRR 9th Biennial Minnesota Workshops on High and Ultra-High Field Imaging and Hands-on Training coming October 9-13, 2013
June 27, 2013 The CMRR will hold it's 9th Biennial Minnesota Workshops on High and Ultra-High Field Imaging during October, 2013. Hands-On Training courses are offered October 9-10. The High Field Workshops are held on October 11-13. A brochure listing the faculty and general schedule is now available.

IMPORTANT NOTE: Registration will open on July 15, 2013.
Early registration is suggested!



Mike Garwood receives 2013 Minnesota Futures grants
June 11, 2013 Mike Garwood, Ph.D., CMRR Associate Director, is part of an interdisciplinary team awarded a 2013 Minnesota Futures Grant to study magnetic relaxation and heating in nanoparticle therapeautics , an important tool in the future fight against many forms of cancer.
MRI's future in dentistry
May 31, 2013 Djaudat Idiyatullin, Ph.D. is working on dental MRI research at the CMRR. He is quoted in an article addressing which dental materials conflict with MRI scanners at DrBicuspid.com.
Read more about dental imaging using SWIFT...
Multi-Band Accelerated Pulse Sequences Gallery
May 30, 2013 The multi-band accelerated EPI sequences developed at CMRR are now available for use at other institutions on compatible Siemens scanners by C2P agreement with CMRR and Siemens. These sequences and the accompanying reconstructions are being actively developed as key components of the Human Connectome Project.

A new gallery of example images and dicom files is now available.
SWIFT used in U's nanomedicine research efforts to fight cancer
May 8, 2013 SWIFT imaging technology, developed at the CMRR by Mike Garwood and his research team, is an important component of University of Minnesota's nanomedicine initiative on projects like new drug-delivery technologies and better screening of potential drugs.
Neuralgia Surgery Gives Patients Their Lives Back
On May 3, 2013, Pierre-Francois van de Moortele and Christophe Lenglet were featured in Health Talk sharing how they are changing lives for patients with trigeminal neuralgia, a devastating neuropathic disorder characterized by episodes of excruciating facial pain. This exciting research work is being conducted at the CMRR.
CMRR Welcomes U.S. Senator Amy Klobuchar
On Tuesday, April 30, U.S. Senator Amy Klobuchar toured CMRR and hosted a roundtable discussion with Dr. Kamil Ugurbil, CMRR Director, on the importance of Congress supporting President Obama's new "BRAIN" Initiative - a research effort to map the human brain in hopes of finding new ways to prevent and cure brain disorders such as Alzheimer's, autism, epilepsy, and Parkinson's disease. The roundtable panel included representatives from Alzheimer's Association of Minnesota and North Dakota, National Parkinson Foundation of Minnesota, Epilepsy Foundation Minnesota and Autism Society of Minnesota. The event attracted over 100 researchers from across the University.


CMRR Director appointed to NIH BRAIN Working Group