Center for Magnetic Resonance Research, Department of Radiology
News
You are here
Prof. Ugurbil receives the Richard R. Ernst Medal
May 20th, 2014 — Prof. Kamil Ugurbil received the prestigous Richard R. Ernst Medal today during the Richard R. Ernst Lecture at the Swiss Federal Institute of Technology in Zurich, Switzerland. This medal is awarded annually to a person who has significantly contributed to strengthening the relationship and understanding between the sciences, society and politics. Former Medal recipients include Kofi Annan, Sir Roger Penrose, Dr. Ahmed Zewail and Dr. Ernst Ludwig Winnacker.
After receiving the Medal, Prof. Ugurbil deliverd a speech entitled "Towards Understanding the Human Brain: A Marriage between Physics and Neuroscience."
Watch the full ceremony and speech here.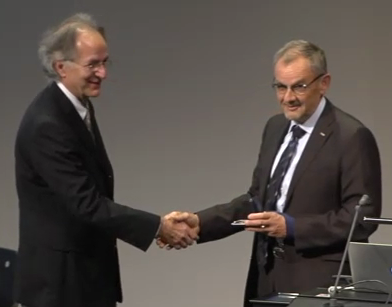 References