Center for Magnetic Resonance Research, Department of Radiology
MR Technologists
You are here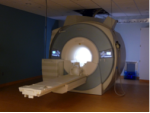 A trained, licensed MR technologist is available to run scans. Here are some important considerations:
The MR technologist charge rate is $80.00/hour. This rate will be charged to all studies requesting a technologist based on the actual time the technologist spends on the study (which can differ from the actual scanning time).
The MR technologist charge is in addition to the 3T scanner charge.
Training of new 3T MR operators will be free of charge to the PI.
Technologists are available from 7:30 a.m. - 5:00 p.m. Monday - Friday Currently, weekend coverage is not available.
CMRR will use best efforts to accommodate MR technologist requests during normal working hours. Please request a technologist at least two weeks in advance. For short-notice situations, contact the CMRR front desk at 6-2001.
CMRR will use best efforts to avoid rescheduling studies if a technologist becomes unavailable due to illness, family emergency, etc.
The CMRR 3T calendar now shows the status of a technologist request: A yellow border around a session means a technologist is requested, a green border means the technologist is confirmed, a red border means the technologist is unavailable.
PI's will receive an email when a technologist request is confirmed or denied. CMRR's goal is to confirm requests within 2 business days.
If a CMRR technologist is unavailable, it is the PI's responsibility to find an alternative person to operate the scanner or change the appointment to a time when a technologist is available.