Center for Magnetic Resonance Research, Department of Radiology
Siemens Biograph 64 slice PET/CT
You are here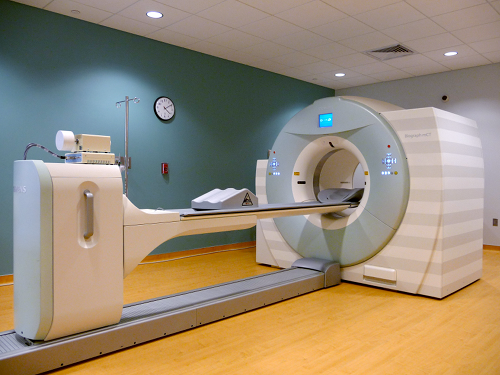 The Siemens Biograph mCt PET/CT scanner is the most advanced scanner in the state of Minnesota. With an onsite Cyclotron from PetNet, CCIR can deliver the most advance imaging techniques and studies available.
The PET/CT at CCIR is a Siemens Biograph mCt with 64 slice CT high speed scanner, 3D PET TrueV wide detector allowing full list mode (offline and retrospective histogramming and reconstruction) imaging of the brain, HD-PET for higher resolution and 2X contrast, respiratory and cardiac triggering on both PET and CT, CT scanner capable of whole brain perfusion and CTA studies.
PetNet Cyclotron: Onsite cyclotron facility operated by PetNet (Siemens subsidiary). FDA manufacturing facility is certified cGMP facility certified to provide to our facility: F18-FDG, F18-AV45, F18-NaCl, C11, O15 water, C11- as Choline and N-13 ammonia
Inveon Computer processing: 3D Visualization and analysis of multiple static or dynamic volumes of PET, CT or MR modalities. Pharmacokinetic Modeling for pharmacokinetics analysis.
Siemens Syngo.VIA is a local PACS system for management of image related data storage and processing. Scientists will have local and remote WEB access to images for display and processing.
Cardiac Ammonia Stress Testing
Cardiac Sarcoidosis Studies
Cardiac Viability Studies
Oncology Studies
Whole body scanning with one complete pass
Clinical Scans
Research Studies